13th – 16th September 2021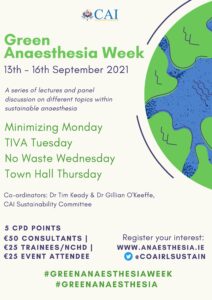 On behalf of the College of Anaesthesiologists of Ireland, the Sustainabiliy Commitee organised the Green Anaesthesia Week from 13th and 16th September 2021. The Green Anaeshesia was delivered virtually through a set of emails that included a lot of information and links to pre-recorded content every day. Each day had its own theme, please see them below.
Minimizing Monday
TIVA Tuesday
No Waste Wednesday
Town Hall Thursday (Live streamed to audience)
To access the programme, please click here. Please note, all lectures were recorded and are available to view on-demand. 5 CPD points approved for all days. The event is open to wide public. The registration is now open. If you are a College member, please register via the booking page below.
If you are a non-College member please complete the attached registration form [Word] and send it to sustainability@coa.ie. Payments through phone are possible.