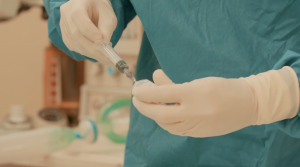 The Faculty of Pain Medicine in conjunction with the CAI is responsible for training in Pain Medicine. The Faculty conducts year long basic training (Special Interest Year) and advanced training for completion of CCST in Anaesthesia. To be eligible to practice as a full time Consultant in Pain Medicine you must pass both the Diploma in Pain Management and Fellowship in Pain Medicine Examinations.
Step 1:
Check if you are eligible to sit exam.
You must:
Have or be eligible for full or limited registration with the Irish Medical Council, GMC or equivalent.
Have completed Fellowship examination in Anaesthesia or equivalent
Have completed the appropriate amount of training
Please read the full Examinations Regulations (pdf).
Step 2:
 Diploma in Pain Management
(a) Multiple choice questions (MCQ) -comprising 40 questions each with 5 stems in acute, chronic and cancer pain medicine
(b) Single Best Answer (SBA) – comprising 10 questions
(c) Viva – the viva will have a structured format. It will be conducted over a 30 minute period with 2 examiners.
Fellowship in Pain Medicine
(a) Multiple choice questions (MCQ) – comprising 30 questions with 5 stems
(b) Single Best Answer (SBA)  – comprising 20 questions
(c) Viva 1 – Each will be conducted over a 30-minute period each with two examiners on clinical/audit/professionalism
(d) Viva 2 – Each will be conducted over a 30-minute period each with two examiners on   equipment/procedures
(e) Clinical case Following 30 minutes of assessment of a patient by the candidate, two examiners will examine the candidate for a further 30 minutes. The examination may include some short minor cases at the discretion of the examiners.
Preparation Course – 8th April 2019
This is a consultant led course covering revision on the core topics and viva practice.
The view from successful Diploma candidate: DPM   "I prepared for the pain diploma exam using various different sources. Firstly I went to any study evening or meeting that the pain faculty arranged. I of course also went to the revision course a month prior to the exam which was really helpful. Regards books I used the essentials of pain medicine and the ANZCA acute pain management: scientific guide. (This can be downloaded for free online and is great) I also use any Bja education articles on related topics and guidelines from IASP.   The clinical experience that helped me pass the exam came mostly from my time doing pain in the base hospital with my supervisor of training, who taught me more on clinical examination of the patient and various other assessment tools. I learned a lot there."
Date: 8th April 2019
Fee: €190.00
Location: CAI, Merrion Square, Dublin 2.
Course Date: TBC 2019
Course Application: Download course application form
Key Contact: exams@coa.ie
Reading Materials
Books
Evidence based interventional pain practice: According to Clinical Diagnoses (Van Zundert): easy to read and very accessible.
ANZCA Acute Pain Guidelines
Pain Management (Waldman): More info but still easy to read.
Textbook of Pain (Wall and Melzack): Very heavy, more for reference.
Guidelines and Reviews (on the relevant websites)
Cochrane (Pain and Palliative Care Section)
NICE
BPS (British Pain Society)
International Headache Society guidelines
Journals
BJA Education ‐ reviews of pain topics
Pain (IASP Biennial Reviews) ‐ most recent 2016
Neuromodulation ‐ journal guidelines and reviews on neurostimulation and intrathecal therapy
Websites
IASP: good review articles, definitions, and guidelines: http://www.iasp‐ pain.org/Pain:ClinicalUpdates?navItemNumber=571
British Pain Society: guidelines. https://www.britishpainsociety.org/british‐pain‐society‐ publications/professional‐publications/
http://emcrit.org/
Examinations Contact: For more information please contact: exams@coa.ie.