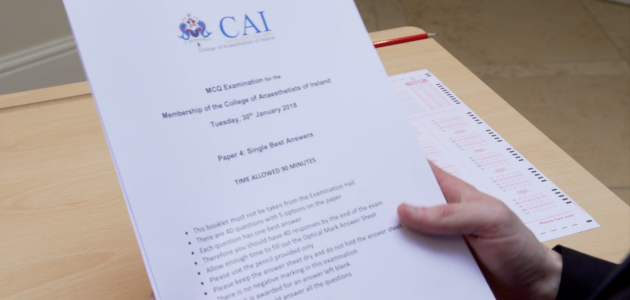 The Membership of the College of Anaesthesiologists of Ireland (MCAI) MCQ is an internationally recognised high stakes assessment of anaesthetists in training knowledge. The MCAI MCQ is a national test of knowledge as laid out in the MCAI syllabus agreed with the Medical Council of Ireland. The examination is embedded in the curriculum and anaesthetists in training may not progress to the OSCE/SOE components of the MCAI without success in this examination.
Key Dates
Examinations will proceed as per the timetable below.

Statement on new regulations
The CAI published new examination regulations in December 2022, we have allowed 1 years notice before these are implemented in full.
Therefore from December 2023 candidates applying for the;
MCAI MCQ – If a candidate passes the MCQ paper, it will be held valid for three years, after which time if the MCAI OSCE/SOE has not been passed, the MCQ must be re-taken.
FAQ's / Application Process