Fellowship CAI – Clinical and SOE Examinations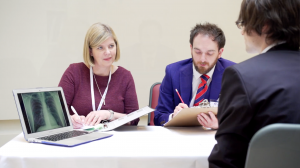 The Fellowship of the College of Anaesthesiologists of Ireland (FCAI) examination is an internationally recognised high stakes assessment of anaesthetists in training knowledge. The Fellowship examination is a national test of knowledge as laid out in the FCAI examination syllabus agreed with the Irish Medical Council. The examination is embedded within the curriculum outcomes and specialty anaesthetic trainees will not progress to SAT6 without possession of this qualification.
Key Dates
| Trial Exam Dates | Exam | Times | Exam application closing date |
| --- | --- | --- | --- |
| 23 Nov 2021 | Trial Final Fellowship CAI Clinical Exam | 09:00 – 10:00 |  8 November 2021 |
| 23 Nov 2021 | Trial Final Fellowship CAI CRQ Exam | 11:00 – 12:00 | 8 November 2021 |
Autumn examinations will proceed as per timetable below.
Application Opening Date
Application Closing Date
Exam Date
Venue
Final Fellowship CAI Clinical/SOE Exam
04 Oct 2021
08 Nov 2021
30 Nov 2021
Online
17 Jan 2022
07 Mar 2022
06 Apr 2022
Online
26 Oct 2022
28 Nov 2022
29,30 Nov 22
CAI*
*Subject to pending decision on in-person clinical exams, expected in June 2022
Step 1:
Check if you are eligible to sit exam. You must be a registered medical practitioner with a primary medical qualification acceptable to the Irish Medical Council, and have been employed as an anaesthetist for 36 months, prior to exam date. If you are on the Irish National Anaesthesia Training Programme you must completed 36 months within the training programme.  A trainee who has completed 24 months on the training scheme may have 12 months' consecutive pre-scheme clinical anaesthesiology experience accredited towards their Final exam, as long as it took place post-internship and in hospital approved by the College. Please read the full Examinations Regulations (pdf).
Step 2:
Download reference template for your Head of Department to sign.
Step 3:
FAQ'S / Application Process