Fellowship CAI – Clinical and SOE Examinations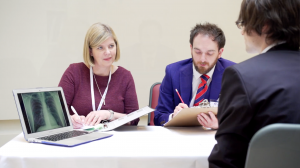 The Fellowship of the College of Anaesthesiologists of Ireland (FCAI) examination is an internationally recognised high stakes assessment of anaesthetists in training knowledge. The Fellowship examination is a national test of knowledge as laid out in the FCAI examination syllabus agreed with the Irish Medical Council. The examination is embedded within the curriculum outcomes and specialty anaesthetic trainees will not progress to SAT6 without possession of this qualification.
Key Dates
Examinations will proceed as per timetable below.
| Application Opening Date | Application Closing Date | Exam Date | Venue |
| --- | --- | --- | --- |
| 7 Oct 2022 | 8 Nov 2022 | 29&30 Nov 2022 | CAI |
|  3 March 2023 | 3 April 2023 | 18&19 April 2023 | CAI |
| 9 Oct 2023 | 6 Nov 2023 | 5&6 Dec 2023 | CAI |
*This exam will be in an in-person format for candidates
CAI statement regarding in person examinations
The Examinations Committee and Council of the College have agreed the following;
The MCAI MCQ and FCAI written examinations will continue to be delivered online.
The MCAI OSCE/SOE and the FCAI Clinical examination will return to in person format in Autumn 2022 in Dublin. We hope that International centres will return in 2023. If an in person examination needs to be cancelled and replaced with online delivery, at least 2 months notice will be given to candidates.
The FCAI Clinical examination will replace the major clinical case with multiple short cases. There will be three individual structured oral examinations (SOE). Each SOE will comprise six clinical cases, which will be examined in detail. Five minutes is allocated to each clinical case. Therefore, in total each SOE will last 30 minutes and total testing time will be 90 minutes.
SOE 1 will focus on perioperative medicine, patient optimisation and data interpretation.
SOE 2 will examine all aspects of general anaesthesia and pain medicine.
SOE 3 will test knowledge on intensive care medicine and advanced sciences which underpin the practice of anaesthesiology.
Each question will start with a short clinical scenario and will map to the anaesthesiology curriculum as either a core, modular and specialist units.
Apply for Examination
Applicant has completed 36 months in the practice of anaesthesia / anaesthesiology.  Additionally, where the applicant is on the Irish National Anaesthesiology Training Programme, they must have completed 36 months within the training programme.
Step 1:
Download reference template for your Head of Department to sign.
Step 2:
FAQ'S / Application Process