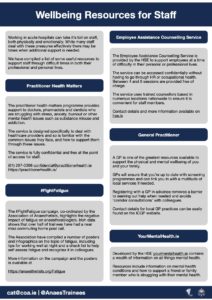 As the COVID-19 pandemic intensifies, so does the pressure on your wellbeing. Look out for each other and your peers. A number of Clinical and Counselling Psychologists have volunteered through the Psychological Society of Ireland to prioritise doctors and healthcare workers during the Covid-19 pandemic. You will find their contact details here: Psychologists-for-doctors On line mental health resources and frontline resilience training during COVID-19   The HSE online training on the following topics: resilience, stress management, sleep are now available.
These modules are provided free and use evidence based cognitive behavioural strategies, are of high quality and point to links to HSE services. Check the HSE website for up to date details and more guidance. Employee assistance and Occupational health professionals are ready and waiting to help across the system.
There are individual and collective training body recommendations and resources on their websites and many are building additional material rapidly to add to this. The College of Anaesthesiologists Ireland have resources at : https://www.anaesthesia.ie/covid-19/.
The RCPI have resources at https://www.rcpi.ie/news/releases/health-and-wellbeing-for-trainers-and-trainees-during-challenging-times/.
The RCSI have resources at https://www.rcsi.com/surgery/training/trainee-resources.
ICGP resources are at  https://www.icgp.ie/?spKey=in_the_practice.clinical_hub.covid_19_coronavirus.self_care_isolation_testing_supports and the College of Psychiatrists of Ireland are at https://www.irishpsychiatry.ie/covid-19-information-and-updates-from-cpsychi/ .
Additionally a  bespoke Irish mental health resource for all healthcare workers in response to COVID 19 can be found at https://www.mindthefrontline.com/. Finally, Prof Brendan Kelly has quickly written a book and can be found https://irishacademicpress.ie/product/coping-with-coronavirus/.
The Practitioner Health Matters Programme (PHMP) in Ireland offers a strictly confidential service to doctors, dentists and pharmacists. They have a confidential telephone line and email contact point for an expert clinical advice service.
To make an enquiry or seek support please email confidential@practitionerhealth.ie or call  on (01) 297-0356. The Intensive Care Society in the UK  share their new wellbeing resource pack developed with Dr Julie Highfield, Clinical Psychologist here.
Their poster series aims to improve the understanding of psychological wellbeing at work, the impact reduced wellbeing can have and what we can do in response, and includes tips for dealing with extraordinary situations such as COVID-19 and everyday working in critical care.
The HSE Workplace Health and Wellbeing unit offers their staff a range of support services at this unprecedented time: https://www.hse.ie/eng/staff/workplace-health-and-wellbeing-unit/home  Prior to contacting a counselling service please consider the most appropriate option for you by observing the functions of other services available on this link; https://www.hse.ie/eng/staff/workplace-health-and-wellbeing-unit/your-support-services/ If you cannot contact a local internal counsellor from the information provided please contact the Staff Care line if National external counselling is the service you require. Telephone – 1800 409388