COLLEGE OF ANAESTHESIOLOGISTS TO APPOINT CLINICAL LEAD IN PATIENT SAFETY
Dublin, September 17th, 2019:
The College of Anaesthesiologists of Ireland (CAI) have today announced the recruitment of a National Clinical Lead in Patient Safety.
In the 72nd World Health Assembly in May this year a resolution on "Global Action on Patient Safety" was adopted. This resolution urges member states to recognise patient safety as a key health priority and take concerted effort to reduce patient harm in the healthcare setting. It also recognises that patient safety is a critical element of universal health coverage so that the public can be assured that healthcare systems are safe.
"Every point in the process of care-giving contains a certain degree of inherent risk, and Anaesthesiologists are uniquely positioned to play a leading role in improving both patient safety and quality of care", according to Dr Brian Kinirons, President of the College of Anaesthesiologists of Ireland.
"Patient safety is at the core of everything we do in the College" said Dr Kinirons , "we arecommitted to strengthening the safety aspect of our healthcare system using science , evidence and knowledge generated from research and incorporating that into plans, policies and practices. We have invested heavily in high fidelity simulation facilities that play an essential role in clinical education and training at all levels and across all disciplines."
17th Sept 2019 was declared by WHO as the "World Patient Safety Day" with the slogan "Speak Up for Patient Safety" . The National Patient Safety in Anaesthesia conference takes place in CAI on 15thNovember 2019.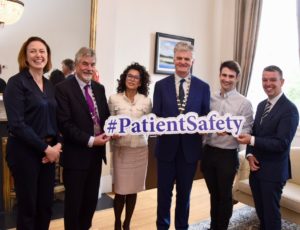 Left to right : Dr Niamh Hayes, Chair of Education Committee; Prof Gerry Fitzpatrick, Vice President, CAI; Dr Miriam Langdon, Chair of Professional Competence Committee, Dr Brian Kinirons, President CAI, Dr Bryan Reidy, Chair of Committee of Anaesthesiology Trainees Committee & Mr Martin Mc Cormack, CEO, CAI.