College of Anaesthesiologists Deliver Training in Malawi
Thank you to H.E. Ambassador Gerry Cunningham for meeting Dr Brian Kinirons and Professor Ellen O'Sullivan from the College of Anaesthesiologists of Ireland, at the Embassy of Ireland in Malawi, on September 8th 2018.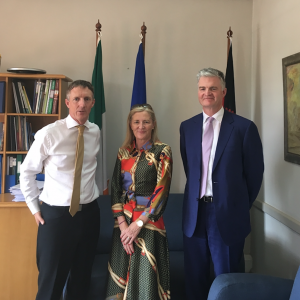 A delegation from the College were in Malawi to deliver a course to a wide community of medical and nursing staff on advances in trauma and obstetrics, improving maternal and newborn mortality and best practice patient care.
Dr Brian Kinirons, Prof Ellen O'Sullivan, Prof Anthony Cunningham, Dr Tom Schnittger, Dr Anne Tobin and Dr Cillian Suiter from the College of Anaesthesiologists of Ireland delivered the training programme in Mzuzu in Malawi.
Over 600 medical staff in Malawi have now been trained as part of our mission to reduce inequality and improve patient care. This initiative is part of the College's mission to improve patient care and patient safety around the world.
The programme delivered in Malawi supports the delivery of the United Nations Sustainable Development Goals of Good Health and Wellbeing, Quality Education and Gender Equality.
Find out more information on maternal and newborn health disparities in Malawi (pdf.).