EBPOM Ireland 2022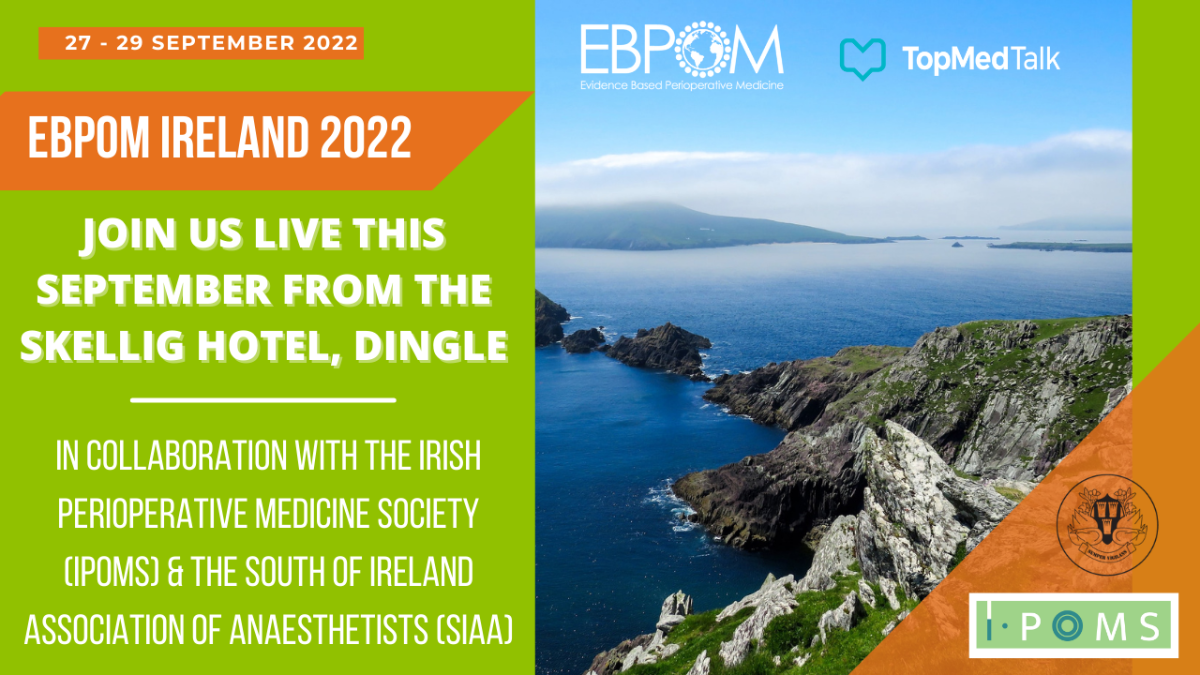 EBPOM Ireland 2022
We are pleased to invite you to join us in Dingle in September
We are delighted to anounce that the 2022 conference continues to be in collaboration with The South of Ireland Association of Anaesthetists (SIAA) and the Irish Perioperative Medicine Society (IPOMS)
Join us for LIVE at the Skellig Hotel in Dingle, for discussions and lectures from world class faculty.
Keep reading for more infomation and some highlights of the conference. Tickets are on sale now at www.ebpom.org for both in person at the Skellig Hotel and for the virtual stream.
EBPOM Ireland – Plenary Lectures
Rod Armstrong Plenary Lecture
EBPOM Is pleased to announce that Prof Ross Kerridge will be joining us in Dingle to present years Rod Armstrong Plenary Lecture at EBPOM Ireland 2022.
Ross' lecture, titled What can the history of Qantas teach us about developing new fields in medicine? in which Prof Kerridge will review the story of the founding of Qantas 100 years ago, looking at the different phases the company has passed through during its growth and development whilst at the same time comparing how these similar stages and challenges are seen in the development of new specialties or fields in medicine.
It promises to be a interesting talk which will raise lots of questions and discussion points.
Prof Kerridge is a senior staff anaesthetist at the John Hunter Hospital in Newcastle Australia and a Associate Professor at the University of Newcastle.
Siobhan Mythen Visiting Lecturer
We are delighted to announce the Prof Lee A. Fleisher will be joining us to give this years Siobhan Mythen Visiting Lecturer at EBPOM Ireland 2022.
Prof Fleisher is the current Chief Medical Officer and Director of the Center for Clinical Standards and Quality Centers for Medicare and Medicaid Services in the USA.
Lee's lecture, titled The role of perioperative physicians in the post-pandemic world: a. policy perspective will discuss learnings from the public health emergency related to COVID-19 and how perioperative physicians can influence outcomes throughout the hospital.
The new U.S. Centers for Medicare & Medicaid Services National Quality Strategy will be discussed including our role in achieving both quality and value.
There will also be a discussion of the role of perioperative physicians in emergency preparedness.
CHECK OUT…
Our Interactive Session
On the final day of the conference we will be running an interactive session called If the Royal College of Anaesthetist (RCoA) has embraced non physician anaesthesia providers – discuss where you. the audience, will be the panel.
Prof Monty Mythen and Prof Mike Grocott will lead the session and invite comments and questions from the floor, both in person and online via Slido.