The College of Anaesthesiologists of Ireland is running a Train the Trainer Simulation Instructors Course on Friday, 7th June 2019.  This 1-day course will take place in the Education Centre, College of Anaesthesiologists of Ireland, 22 Merrion Sq, Dublin. For more information please see the Train the Trainer Flyer below. The course fee is €350, 7.5 CME points will be awarded. For bookings please fill in the attached Application Form and return it to Rachael Kilcoyne at rkilcoyne@coa.ie Train the Trainer June 2019 Application Form
Airway Leads Training – Ireland (ALT-I) was officially launched on 8thFebruary 2019 at the College of Anaesthesiologists of Ireland Merrion Square, Dublin 2.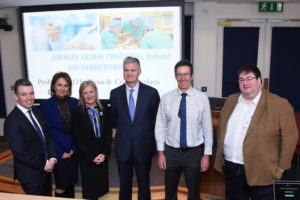 The course was  co-directed by Prof Ellen O'Sullivan and Prof Crina Burlacu.  The faculty included Dr Mark Halligan, Dr Brian Harte, Prof Conan McCaul, Dr Alistair McNarry, Dr Caitriona Murphy, Dr Jennifer Porter, Dr James Shannon, and Dr Mark Stacey.