Advanced Simulation in Critical Care (ASICC) – Postponed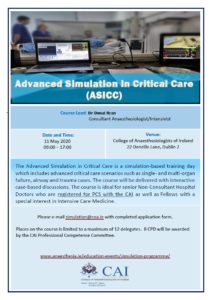 The Advanced Simulation in Critical Care is a simulation-based training day which includes advanced critical care scenarios such as single- and multi-organ failure, airway and trauma cases. The course will be delivered with interactive case-based discussions. The course is ideal for senior Non-Consultant Hospital Doctors who are registered for PCS with the CAI  as well as Fellows with a special interest in Intensive Care Medicine.
Due to the COVID-19 this course has been posponed until further notice.