Professor George Shorten Awarded Lifetime Achievement Award from University College Cork
The College of Anaesthesiologists of Ireland are delighted that Professor George Shorten has been awarded a Lifetime Excellence award in Teaching from University College Cork.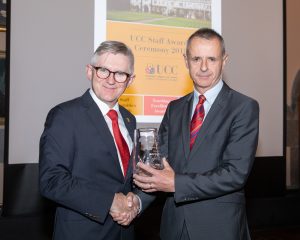 October 4th 2018 occupies an important night in the University College Cork calendar. It''s the night when the University Staff Awards Ceremony takes place.
The night celebrates the contributions and achievements of the staff of University College Cork within three categories:
The Staff Recognition Awards Scheme, Teaching Excellence Awards and Research Awards. Photo shows UCC President, Professor Patrick O Shea with with Professor George Shorten, School of Medicine recipient of the Lifetime Contribution Award for Excellence in Teaching (inaugural). Photo By Tomas Tyner, UCC.
"Although much advanced technology has been applied to training in medicine, the team in Cork led by Professor Shorten has provided a sound pedagogical and (importantly) scientific basis to employ high and low fidelity simulation devices and virtual reality. This has been achieved by anchoring "what is trained" and "what is measured" to that which affects meaningful patient outcome (both errors and safe practice). This has proven to be an important enabler of the global move to Competency-Based Training. It also provides a workable model for lifelong learning and continual improvement by health professionals. Much of this work has been conducted at the ASSERT Centre, UCC, of which George was Foundation Director." Jannicke Mellin-Olsen, President of the World Federation of Societies of Anaesthesiologists.
"Professor Shorten's work on evidence-based training of health professionals has had a defining influence." Stefan de Hert, President of the European Society of Anaesthesiologists.