College of Anaesthesiologists of Ireland responds to publication of Medical Council survey 'Your Training Counts'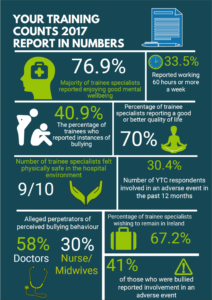 3rdJuly 2019
Dr Brian Kinirons, President of the College of Anaesthesiologists of Ireland, has the following message for Trainees and Fellows following the publication of the Medical Council survey 'Your Training Counts'.
Today, the Medical Council published some of the findings of its survey of trainee doctors in Ireland, Your Training Counts (YTC) which sought the experiences of doctors in all training bodies in Ireland in 2017.
The College of Anaesthesiologists of Ireland actively encouraged doctors enrolled on our SAT training programme to participate in this survey which was based on similar work carried out in other jurisdictions.
 While most trainees reported feeling well and being satisfied with their training, almost all experience challenges with the system.
Doctors wellbeing is a crucial element to ensuring good professional practice, effective doctor-patient relationships and the highest possible standard of care. The College of Anaesthesiologists of Ireland welcomes the fact that the Medical Council National Trainee Experience survey, further raises awareness around the fact that wellbeing remains a prevalent issue and highlights system wide well-being and challenges that exist for doctors in Ireland.
 I am pleased to see that trainees perceived quality of life, reported as "good or better", has risen by 10% during the period survey period to 70% in 2017. It is clear from the survey that age, gender, SDHS score, self-generated health and hours worked per week were significant predictors of self-rated quality of life.
However further analysis demonstrates that the closer an individual was to presenting with mental health status that might benefit from additional supports, and the lower their self-perceived quality of life, the higher the chances were that they would report lower self-rated general health.
 This is something that we are particularly focused on as a College. In May 2019 we launched our ambitious College strategy 2019-2024. One of our major objectives is to develop a comprehensive well-being programme for our Fellows, Trainees and employees. To this end we launched a series of events in College this year focused on well-being, we have developed and expanded our tutor network at each clinical site, supported our Committee of Anaesthesiologist Trainees (CAT) Specialists buddying system and Lead Anaesthesiology Trainee Coordinator. This year at our Annual Congress of Anaesthesiology and Intensive Care Medicine including sessions on Caring for the Carers: maintain wellness and resilience & mindfulness.
 Worryingly, the percentage of trainees who reported experiencing bullying nationally across all specialties has continued to rise steadily since YTC began in 2014. Over two thirds of those who experienced bullying behavior did not report the incident to an authority figure. Over half of respondents had witnessed such incidents on a daily basis. Unsurprisingly those who were frequently bullied reported a lower quality of life in this survey.
 It is clear from this research that we need to do more to improve how we deliver postgraduate training in the clinical setting and how we communicate and work with each other. Civility matters and is a critical component of professionalism.
 The College of Anaesthesiologists of Ireland support the AAGBI Fight Fatigue Campaign. In addition, we have produced a helpful guide to Professionalism in Anaesthesia, Intensive Care and Pain Medicine. In addition, the CAT committee have further surveyed our 240 Trainees on training and wellbeing resources in the College and at clinical site level. As part of our commitment to delivering excellent training we regularly inspect the training provided at clinical site level and seek feedback from trainees on an ongoing basis in relation to the environment to support training.
We have also been working to improve the way we communicate with our doctors, particularly with doctors on our Specialist Anaesthesiologists Training programme. We are meeting more frequently with them in College and in hospital settings and constantly striving to improve their experience of training.
 The College of Anaesthesiologists of Ireland is also working externally to seek ways to improve postgraduate training. I have met with Prof Frank Murray of HSE NDTP to discuss many of the issues that concern all of us, including those identified in this survey and in our communications with our doctors in training.
 We are grateful to HSE NDTP for their support of training and research. The College will be proactively engaging in a Forum of Postgraduate Training bodies led initiative with other stakeholders in the months ahead to create a national medical training strategy and national workforce planning strategy in which we collectively hope to set out a vision for postgraduate in Ireland for the next decade.
 We are dedicated to educating and training current and future generations of doctors in anesthesiology, intensive care and pain medicine, to have the skills to provide patients with the best care possible.Your Training Counts is an important survey of trainees by the Medical Council. It has identified strengths and weaknesses in the training programmes in Ireland and areas of stress for trainees. We, in the CAI, are committed to do everything we can to enhance the training and wellbeing of our Trainees, Fellows and Staff.