Launching of Airway Leads Training – Ireland
Airway Leads Training – Ireland (ALT-I) was officially launched on 8thFebruary 2019 at the College of Anaesthesiologists of Ireland Merrion Square, Dublin 2.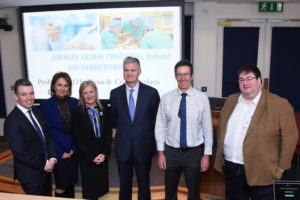 The course was  co-directed by Prof Ellen O'Sullivan and Prof Crina Burlacu.  The faculty included Dr Mark Halligan, Dr Brian Harte, Prof Conan McCaul, Dr Alistair McNarry, Dr Caitriona Murphy, Dr Jennifer Porter, Dr James Shannon, and Dr Mark Stacey.
This course followed the 'train-the-trainer' model, which consists of a combination of lectures, clinical skills stations and simulation sessions delivered by experts with a national and international reputation in airway management and education.
Twenty three Consultant Anaesthesiologists attended the course from different hospitals in Ireland with special interest in airway management and teaching.
The programme was highly commended by participants and faculty alike and there was a huge interest in initiating airway leads network in Ireland.
Course Photos