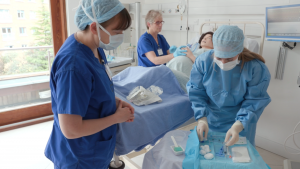 The College launched the College of Anaesthesiologists Simulation Training programme, back  in 2010. Since then the programme has expanded both in terms of the range and number of courses. A network of Consultant Anaesthetists, Fellows, nurses  and College administrators contribute to the success of the programme. The teaching on our courses is delivered by expert clinicians with general and sub-specialty interests, who have completed specific Train the Trainer Simulation Facilitator courses.
Simulation Centre Activities
The Simulation Centre hosts mandatory simulation courses for Specialist Anaesthesia Trainees and other simulation-based educational events.  In 2017 over three hundred participants took part in 33 simulation courses. The vast majority of these courses took place in the College of Anaesthesiologists Simulation Centre, and were attended predominantly by Anaesthesia Trainees. We also trained a small number of CPD-SS doctors and International Fellows. Simulation continued to be a very well received component of many other internal and external educational events. We also deliver the annual A-Crisis for Consultants, and e Train, the Trainer Simulation Instructors Courses.
Recent Evaluation Report
The College of Anaesthesiologists of Ireland is delighted to announce the publication of a large report of feedback data from four simulation courses that were delivered over a 6-year period of time.